Buffalo: Home of the Braves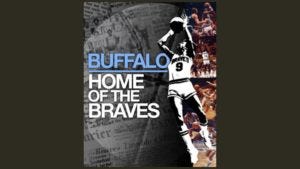 In 1970, the NBA added expansion teams in Portland, Cleveland, and Buffalo. The Trail Blazers and Cavaliers live on as mostly beloved institutions in their home cities, but the Braves vanished mysteriously from Buffalo 42 years ago. In the book Buffalo: Home of the Braves—just completed as as an audiobook—brothers Tim and Chris Wendel remember the city's short-lived NBA franchise, christened by one pundit with these salty words, "General manager Eddie Donovan has, at worst, given this bleak outpost a flashy backcourt, a handful of competent forwards, and a couple of center who are a shade better than bad."
In a recent conversation with Tim Wendel, he laid out why Buffalo was anything but a bleak NBA outpost and how the Braves were two shades better than good when, for no good reason, they disappeared in 1978. Wendel, a seasoned author, also talked about the challenges of publishing and marketing sports books and offered some helpful tips for anyone ready to take the plunge.
--Does Buffalo deserve another NBA team?
I think Buffalo deserves one. But I doubt that the city will ever get a sniff at another NBA team. The city's population has decreased significantly. Just as important, when the Braves left town, when they were pulled out by John Y. Brown and did that bizarre franchise swap with the Boston Celtics, which I think is one of the most-interesting and maybe egregious franchise situations ever.
--Right, the infamous franchise swap.
The restless Irv Levin, who was then the owner of the Boston Celtics, wanted to go to the West Coast. The NBA powers-that-be said there was no way they were going to let a storied franchise move West and become the San Diego Celtics. So, they swapped franchises. The Buffalo Braves became the new Boston Celtics. What were the old Boston Celtics became the San Diego Clippers and then the Los Angeles Clippers.
The city didn't fight the franchise swap hard enough. The city fathers could have taken this whole thing to court to hang onto the team. They didn't. They made it pretty easy.
--The funny thing is the popular support was there in Buffalo. What was lacking were the right arena dates. Correct?
I think it was two things. It was very problematic for the Braves to get weekend dates consistently. The NHL Buffalo Sabres often had Sunday afternoons or evenings. Canisius College, which had a very viable basketball program at that point, often had Saturday nights locked up.
They were exploring some alternatives to solve the situation. But they didn't give them enough time. One is the Braves were becoming a regional franchise, dividing games among Toronto, southern Ontario, western New York. In many ways, the reason that you have the Toronto Raptors today is the Buffalo Braves generated interest in professional basketball there half a generation ago. The other problem was ownership.
--Let's talk about the ownership.
Ownership in Buffalo was problematic from the get-go. One, you had an original ownership group that didn't have deep pockets. At the eleventh hour, Paul Snyder was brought in, and he did have the money. He'd never really been into sports ownership before. He was in some ways a very charismatic, forward-thinking owner. It was his idea to play games in Toronto. He even played exhibition games as far afield as Syracuse and Rochester, making that part of New York State  his domain.
The problem was Snyder wasn't a very patient guy. Look at the revolving door of players that the Braves lost. Moses Malone spent less than three weeks in a Braves uniform and was sent packing. Jack Ramsay was the coach for four seasons. As soon as he left, Ramsay wins a championship in Portland.
I think sometimes the real key to ownership is maybe staying pat, having patience with the situation. Everything was exacerbated when John Y. Brown first came in as co-owner and then finished  up his tenure in Buffalo as THE owner with players going in and out. The Braves were THE team that fans couldn't tell the players without a program. This was accentuated with me while interviewing Bob McAdoo for the book. I grew up in western New York watching the Braves and going to games. I loved the team. But it took McAdoo to remind me how close this team was to becoming a championship caliber team, if they'd just held onto their players. McAdoo pointed out to me that for two weeks or so going into the 1976-1977 season, the Braves had a frontline of Moses Malone, Bob McAdoo, and Adrian Dantley. In the backcourt was Randy Smith.  As McAdoo said to me, "I think we'd win some championships."
--Was Ernie DiGregorio still there?
Yes, but he'd hurt his knee and was a shadow of his former self. Jim McMillian, who came over from the Lakers for an extended period, used to talk about how Ernie D. had an amazing ability to make that long crosscourt pass. McMillian would set up in the corner and wait for the ball. He noticed almost as soon as Ernie D got hurt that his amazing crosscourt pass disappeared.
But you look at how that team was set up in 1976, you hang on to Ramsay as the coach. Maybe you get a little more backcourt help until Ernie D. has a chance to bounce back. Hang on to the frontline of Malone, McAdoo, and Dantley. You've got veteran Jack Marin coming off the bench. Things start to become pretty interesting.
Like so much about the Braves, it was fleeting. You had these impressive snapshots and, I saw this so many times while researching the book and looking through old newspaper clips, players vanished from the lineup all the time. Where did Matt Goukas go? Where did Jack Marin go? All were let go via trades.
--How did you come up with the idea for the book?
My younger brother Chris came up with the idea. We used to go to Braves games together when I was in college. I'd drive home from Syracuse to attend Braves games with him. Chris, who now works as a small business consultant in Michigan, was visiting our hometown of Lockport, New York, outside of Buffalo. While there, Chris looked through the old Courier-Express, the former morning newspaper that's archived at Buffalo State, where Randy Smith went to college. That was the spark. Chris started getting in touch with some of the former players … Ernie D … Randy Smith … a little bit later McAdoo.
If you're going to do something like this, you need really good photos. That's what Chris ended up finding when he got in touch with and became good friends with Robert Smith, the former photographer.
--Tell me about getting all those fantastic black-and-white images. They really enhanced the book.
That's all Chris. He called Robert to lay out the project and asked if he had any old photos of the Braves lying around. Robert said sure and invited Chris over to his house. When Chris got there, he expected spending a few fun-filled hours flipping through photo albums. Instead, Robert asked Chris to sit down, and they started shooting the breeze. No photos. Lots of small talk. It finally dawned on Chris that Robert wasn't just going to hand over his photos to just anyone. He wanted to make sure that they would have a good home. After a while, Robert brought out his photos and was onboard with the whole project. It's an excellent example of how doing books isn't all about taking the story and running with it. A lot of the process involves  developing trust and good working relationships.
--When did you enter the project?
I came in right around then as the words guy and interviewed the players. I'd published a number of sports books—Going for the Gold about the Olympic hockey team, several baseball books, even some baseball novels. I was in-between projects and thought, "Why not?"
--Buffalo: Home of the Braves is a coffee table book. Traditionally, coffee table books sell well. But everything in publishing these days is so fluid. How did the concept work for you?
I think the concept worked pretty well. The book was being sold for more than $45, which, for the length and the number  of photos seemed reasonable to us. Maybe for some people in western New York, there was a little bit of sticker shock. That's why, within the last year, we've gone to different kinds of platforms to get the book out. We wanted to make this amazing story  more affordable for  people. And this isn't a coffee-table book about the Boston Celtics. Unfortunately, the Braves have been forgotten by some people, especially outside of Western New York.
--It's a niche audience.
Yes, but it's one that, once you start bringing in Bob McAdoo, Ernie DiGregorio, Randy Smith, Jack Ramsay, that's what perks up interest. So, in recent months, we've gotten out the Kindle version. The audio book can now be found at Google Play, Apple, and other distributors, too.
--Which platforms did you look at?
Just different ways that the book can be enjoyed. I'm a book guy, and I tend to think of physical books. That was the original format. We published a coffee table book that you could see on a shelf in somebody's home. Other platforms are Kindle, which we pretty much did the same way. There are almost as many photos. But we had to redo the design just a little bit. Here's why. If anyone was looking at the book on their Kindle, Nook, or phone—where it's all available now—there was a problem with the layout. You had these big photos, like in the physical book, except there were these big blocks of white space. We looked at some other photo-driven sports books that were up on Kindle and Nook, and we noticed that they tended to group photos toward the end of chapters or sections.
--What about audiobooks?
Absolutely. Audiobooks are seeing the most growth in publishing right now. Audiobooks are just selling all over. The weird thing is, so far, they haven't cannibalized other parts of the publishing pie. While audiobooks grow in popularity, hardcover is relatively okay. Trade paper is okay. Even Kindle, though it's plateaued a little lately.
I had a lot of fun narrating the audiobook. This is now my fourth one. All have been my titles. By the end of the year, I'll branch out to do other people's books. It was fun for me to read it and just revisit these times. But there was one part that I was having the worst problem with. Van Miller, the Braves' only play-by-play radio announcer, did a foreword for us. He wrote it himself, and it was great.
But Van's now passed on, and we knew that it had to be in the audiobook. Yet, I had a difficult time reading it. I kept trying to channel my inner-Van Miller. I was doing a poor impersonation of him. The patterns, the cadences were  different from what I might write.  So, we were little stumped.  I remember thinking at one point that I just had to cowboy up and read Van Miller's foreword. Well, I did it. It was fine. Then, at the eleventh hour, Pete Weber, the voice of the NHL Nashville Predators who got his start in radio in Buffalo—and another huge Braves fan—we called him, and Pete did Van's foreword. And it rocked.
--What would you advise anyone about putting together an audiobook?
Number one, I think all authors know the content of their books better than anyone else. They  know how it should sound, how it should flow. I think that's always an advantage. I also think listeners like to hear the book read by the author. There's some kind of intangible there. So, consider doing it yourself.
If you take the leap, be aware there are a lot of technology hurdles. I'm not a big techno guy, and I still get tripped up by the bells and whistles.  I'd say that to do it, you've really got to get on top of which microphones to use, the correct equipment.
--How do you do that?
Frankly, the best way  to get up to speed is to take your recording and just produce it yourself. That production aspect was a huge jump for me. My first audiobook was called Cancer Crossings about my brother and leukemia doctors up at Roswell Park Cancer Center in Buffalo. That was done in a studio for Blackstone. I came in at the eleventh hour as the voice. I'd decided that this is a personal story, and I wanted to be the one reading it. They gave me a shot, and it worked.
But I didn't do any of the production. I think to do this right, you've got to learn enough of the production to make it worth your while. The subsequent audiobooks — Down to the Last Pitch about the 1991 World Series,  Going for the Gold about the 1980 Olympic team, and now Buffalo: Home of the Braves—I've done both the narration and the production. Learning the production has been a steep learning curve, but it's doable. If you're really serious about it, join an ACX master class or the Such a Voice program,  too. It at least gives you some other folks to talk to online about ways to do it.
--How much of a financial outlay is it?
About $1,000, maybe less. I'm looking around my office right now, and I've got one microphone that I don't use much anymore. It took me a while to find the one that I really like, which is an ATT 2020 Plus. Somebody in a Facebook group heard one of my productions and said, "With your voice, I think you'd be better served with the ATT 2020 Plus." Maybe that's where you spend your money. Feeling your way through the equipment.
--Like a guitar player finding the right guitar.
Exactly.  You just build that kind of way. But I think mastering the process would be very difficult to do on your own. You need people who can help you trouble shoot, especially in terms of equipment.
--Did you pitch the book idea to a traditional publisher at first?
 If the book had been solely my idea, I probably would have gone further down that road. I have a great literary agent, and I've published 13 or 14 books. We could have reached out to Random House, Harper Collins, Da Capo, and the publishers of my other titles.  But I partnered with my brother Chris on this project, and he was interested in learning about publishing. I decided to back my brother, and he came through amazingly well.
--How so?
He delivered most of the photos and came up with the cover of the book. He also set up Sun Bear Press as our publisher. That is Chris' own press. While he's doing all that in Michigan, I was at my home in Virginia interviewing players and writing the narrative.
You and I were just talking about how fluid publishing is. Well, when we started this book project a little over 10 years ago, everybody's goal was to go with a major publisher. Back then, Random House, Simon & Schuster, and the other big New York publishing houses were selling a lot of sports books. These days, I don't see a ton of interest from the New York publishers in sports books, especially a niche title like our book. It's a coffee-table book based on eight NBA seasons. The book starts with a foreword from a Buffalo announcer and intersperses newspaper columns from a legendary Buffalo sportswriter. You get the picture.
We  could have probably sold the idea back then in some way, shape, or form to a big publishing house. But we would have had to give away a lot of editorial control over the project. That would have been tough. The Buffalo Braves are near and dear to us. Chris and I knew what needed to be in a book like this.  A New York publisher would have been inclined to cut corners and content to manage the length and cost. Our labor of love would have been compromised. We would have had to go along with those snap editorial decisions to get the book out.
--But publishing through your own press must have made trimming publication costs even more of a bottom-line issue. After all, these costs were coming out of your pockets. Did you pay for the photos?
Yes, we paid for the photos from Robert Smith.  Others were in the public domain. I'd forgotten how many photos go into a coffee-table book. For ours, it was well over 200. It wasn't easy some times, but it was good to retain control for a project like this.
--What about marketing your book?
I think what you're trying to do with any book is, number one, find the community for it. Then you're trying to foster that community in some way. With those  ideas in mind, we launched a blog before publication called Buffalo Nation. It is in a sense about past sporting events, teams, figures from Buffalo. Certainly, the Braves are the most star-crossed, bittersweet story to come from that era, right up there with the Bills losing four Super Bowls. I think that's what people are often looking for in a writing or video project.  Find the community. Who are the people who are really into this?
That even serves when you're looking for agents, editors, and publishing houses. Many might not care about the Buffalo Braves, but other people will totally enjoy it. I'm always doing that with my projects. Trying to find the best fit. The best fit is usually people who just love talking and thinking about this stuff, too. One of the ways that I find them is I read acknowledgment pages relentlessly, especially if it's a book that I enjoy or maybe similar to something that I'm working on. It could be the subject or the approach. It could be the era, the timeframe. People talk about networking, and that seems a little highfalutin to me. To me, when you're doing this type of thing, it's mostly finding your community, the people who love this stuff as much as you.
--Aside from the blog, how else did you form that community for this book?
Our parents still live in Lockport, and we'd go back to visit them and maybe do an event in Buffalo. Last fall, for example, I was in downtown Buffalo, my wife and I were just walking around. I went into a shop that was selling different kinds of sportswear, and you could have knocked me over with a feather. There were Buffalo Braves t-shirts for sale. They were selling them in all different colors. I got talking to the owner and mentioned our book on the Braves. He knew about the book. The next thing I know, we're selling the book out of his store. You know, you've just got to find those little mother lodes.
--I noticed on your blog that the pre-publication cost of your book was originally pretty high. How did you get the cost down to $30?
Chris did a lot of that.   For our coffee-table book, the paper stock is as great as you can get. It just feels amazing in your hand. You can save some money there, for example, but he kept with the best material. We were very much learning things at that point in time, Chris especially. He kind of bore the brunt of it. I'd done a number of books, and I knew what made up a good story. At times maybe I was driving him to distraction. He would think that he'd filled all the holes in terms of how the book would look or feel, then I'd be writing a section on Ken Charles hitting the  game-winning free throws against the 76ers to beat them in the 1976 playoffs, the only playoff series that the Braves won. I'd say, "I think we need another photo of Ken Charles." It would drive Chris nuts.
--The book came out, and Randy Smith passed not long afterwards.
Yes, while writing the book, Randy was my go-to guy for interviews. In a way, that's the way it had to be. He was the guy who was there from nearly the beginning to when the franchise left town.  As he said, "I'm the last of the Braves." When you're doing a history project like Buffalo: Home of the Braves, there are certain times when you're stumped and need more information. Randy had the answers. He was working in a casino in Massachusetts, and we would often talk late at night when he had time.
When he died, the book had been out for maybe a year. I think Chris called me and said, "Randy just died of a heart attack." The shock of it wiped me out. It was mid-morning, and I was sitting at my desk. I remember thinking, "I just can't deal with this." I was going to go on a run to clear my head, and something said, "No, you've got to write about this moment." And so, I put together something pretty quickly. It was my remembrances of Randy and how, according to many, he was the ultimate Buffalo Brave. << http://braves-world.blogspot.com/2009/06/remembering-randy.html >> It was a heartfelt tribute to him. I wrote the piece, then put it up online. It was a good thing that I did. By that evening, word had spread everywhere, and people were looking to read things about Randy and commiserate in some way. And there was my piece.
If I hadn't done it, the piece wouldn't been where I think it needed to be on social media. I'm not just talking about selling books. I'm talking about helping other people move on from the shock of losing this guy. Randy was in such amazing shape. You thought he'd live forever.
--What should we remember about the Braves?
The Braves were the most promising, yet star-crossed, team that ever played in the NBA. Due to forces outside of the players' and fans' control, they fell apart. If you look at a team that had three rookies of the year —McAdoo, DiGregorio, Dantley—had a future Hall-of-Fame coach in Dr. Jack, that was a team that nobody wants to face in the playoffs. And then, to have them just disappear as they did is kind of a tragedy. I think people needed to be reminded of this story.
Back when I was starting the project, I remember watching an interview that McAdoo had done with Jim Rome. Already, people had forgotten how good this team was. In a lot of ways, the NBA today plays a similar up-tempo style—everybody can shoot, you run the floor. The NBA today is what the Braves used to be. McAdoo was on the Rome Show and Rome mentioned that it must have been tough playing in Buffalo, with those long winters and those terrible teams. McAdoo answered, "Actually, Jim, we were pretty damn good." I think that's what has been forgotten.
  Bob Kuska is a basketball writer in West Virginia. He has a new book due out this winter titled Shake and Bake: The Life and Times of NBA Legend Archie Clark (University of Nebraska Press).